"File" menu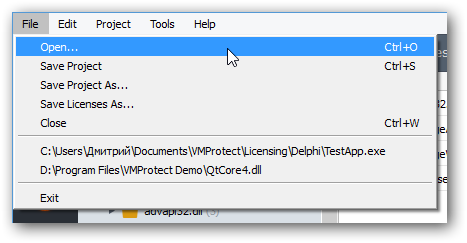 Open – choose an executable you want to protect, or a project file (*.vmp). You can also select a file to open from the list of previously protected applications shown in the File menu. You can also bring up the open dialog with the corresponding button on the toolbar . Finally, you can drag-n-drop the file you need to the VMProtect window;
Save Project – save application protection settings to a "*.vmp" file. Project settings file is saved to the same folder where the executable of the protected application is located. Saving is also available with the toolbar button ;
Save Project As… – save the project file to a file with a new name;
Close – finish working with the current project;
Exit – close VMProtect.